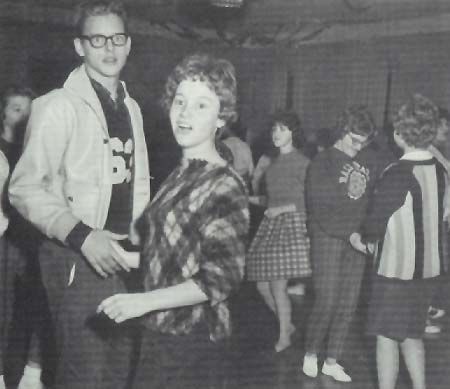 Steve Lineberry & Suzie Ewing at the Kid Kanteen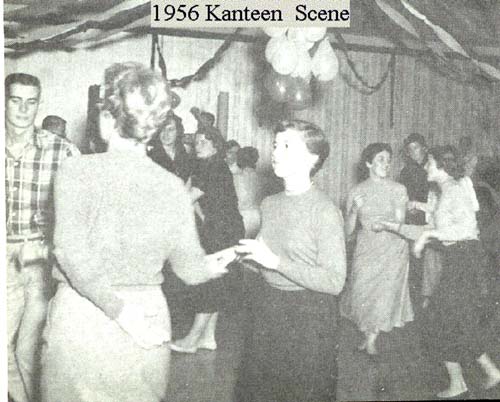 Kid Kanteen 1956
03-01-1944
Guy Foster, chairman of the Kid Kanteen committee which was recently named to remote a series of youth parties for high school students, and possibly later for some of their friends, announced today that plans have been made for another series of these parties during the months of March and April. More details are available in the article.

06-21-1944
The Kid Kanteen will be sponsored by the Masonic lodge of Alexandria.

06-27-1944
Preparations were going forward today for the first of the Kid Kanteen meetings to be held under the sponsorship of the Masonic Lodge in Alexandria.

10-05-1944
Herbert Hughes, chairman of the adult committee in charge of the Kid Kanteen, announced today that a juke box has been purchased as additional equipment for the organization. It is expected that the machine will be installed and ready for use at the party on Saturday night.

10-10-1944
The Kid Kanteen was inspected today by a group from Summitville planning a similar operation there.

01-01-1945
Due to the fact that some frozen water pipes at the Johns-Manville club rooms on East Washington Street could not be repaired in time for use of the rooms Saturday night, the weekly party of the Kid Kanteen was held at the high school building. The upper floor and some of the class rooms were used for dancing and a number of games, and those who attended enjoyed the party a great deal. Kanteen officers and committeemen are making plans to get into permanent quarters, with all of the equipment, as quickly as possible, and some decisions along that line may be made before the week is out.

07-26-1945
Plans for broadening the Kid Kid Kanteen.

11-30-1945
Kid Kanteen directors meet.

07-11-1946
Kid Kanteen opening Friday promises to be a magnificent affair. Two or three months ago the teenage boys and girls of Alexandria opened negotiations with a number of building owners and fraternal organizations in the city to obtain a new Kid Kanteen headquarters which, in their own phraseology, they might call their own. After many organizational meetings and a great deal of hard work from the young people and a group of interested citizens and parents, nine rooms were leased for the Kid Kanteen headquarters at the corner of Church and Harrison streets, and the new Kids Kanteen will celebrate its grand opening Friday night 8 till 11:30 p.m. For the past year and a half members of the Johns-Manville club graciously loaned the use of their club rooms for weekly Saturday night meetings of the Kanteen. Prior to the use of these rooms the young people met at different times in the Masonic home and the high school gymnasium. Kanteen President is Mrs. Joan Carnahan, and board chairman is Arthur Trout. A significant cleanup project was finally completed in time for the grand opening. Floors have been washed, sanded, and refinished; the woodwork has been painted ivory; four walls were papered, five were painted; furniture has been collected, cleaned, and painted; drapes made for the windows among numerous other improvements. There is now powder and wash rooms, a fine coke-bar room, complete with painted bar and booths. An attractive and comfortable lounge has been arranged in the center of the room with the card room to the front. The dance hall has been papered and painted in powder blue with subdued lights around the wall paneling. Attractive floor and table lamps have been placed in advantages spots. Bowls and vases of cut flowers will be arranged in the entertaining rooms on opening night. Gene Farquar will serve as master of ceremonies for the dedication ceremonies. The welcome will be given by Miss Carnahan, who will introduce the Kanteen and adult committees. Mr. Trout, as advisory chairman, will acknowledge the various gifts and donations and the outstanding work of several youth members. Mayor Harry DeMoss will formally present the new Kanteen for the use of young folk in the city, and Miss Carnahan will give a brief acceptance speech. Rev. Franklin Bruce, pastor of the Presbyterian church will be the dedication speaker. Miss Carnahan will close the program by announcing additional features of the evening which will include dancing to the music of Bill Masters orchestra and a cleverly arranged floor show. The floor show will include a twirling act by Bert Tomlinson, assisted by Sue Ann Hines, junior majorette; a reading by Marilyn Morton; piano solo by Miss Albert Schmidt; vocal solo by Miss Phyllis Holmes, accompanied by Miss Lynn Russell; and another vocal solo by Miss Martha Imler, accompanied by Miss Doris Shawhan. There will also be an open house on Friday July 12 from 3 oclock p.m. till 6 oclock.

07-12-1946
Kid Kanteen opens tonight.

07-15-1946
Speaking before a throng of approximately 400 members and wellwishers along with Rev. C. Franklin Bruce dedicated the new Kids Kanteen.

01-23-1948
The annual Madison county Poultry school will be held here next Wednesday in the Kid Kanteen. An attendance of nearly 200 is expected to participate in the meeting and egg show to be held also.

01-29-1948
Eighteen prizes were awarded at the Annual Madison county Poultry school Wednesday at the Kid Kanteen.

04-06-1948
Kid Kanteen Board to meet April 15th.

04-12-1948
All members of the Adult Kid Kanteen board are urged to attend an important business meeting Thursday night at the Kid Kanteen rooms. Active members of the board, headed by Arthur Trout, stated today that unless there is an increase in attendance at board meetings, the board will have to be dissolved, and Kanteen matters will be turned over to some organization.

05-12-1948
Tag Day Sale slated by Kid Kanteen.

06-09-1948
Kid Kanteen to be redecorated.

07-13-1948
Kid Kanteen Saturday parties are suspended. At a recent meeting of the Kanteen Board, tentative plans to arrange Kanteen meetings in Beulah Park for the remainder of the summer while extensive redecoration is carried out in the present rooms.

Also Alexandria mayor asks community to help raise needed funds for the Kid Kanteen.

08-20-1948
Benefit ball games will help Kid Kanteen drive.

09-03-1948
More than 30 young people of Alexandria started out at 9 oclock this morning for a house to house canvas of the residential section of town in order to raise funds for operation of the Kids Kanteen.

Also the Alexandria Lions Club voted to aid the Kid Kanteen.

09-17-1948
Cleaning and redecorating begins at Kid Kanteen.

11-10-1948
An invitation was extended today to the general public to attend the formal reopening of the Kid Kanteen Saturday night and inspect the rooms which have been completely renovated since the Kanteen was closed six weeks ago. Miss Patty Lewis is president of the youth group.

Also a final report on the recent Kid Kanteen fund drive conducted by members showed that $1,500 had been collected. Redecorating cost $728 leaving an additional $725.49 in the Kanteen treasury.

01-25-1949
Kid Kanteen has its first party of series.

02-08-1949
Kid Kanteen paper drive to be Saturday the 12th.

02-15-1949
Kid Kanteen to serve visiting musicians

04-05-1949
Kid Kanteen fails to break even on lunches.

07-12-1949
The Kid Kanteen is planning its fourth anniversary celebration this week.

09-29-1949
Kid Kanteen Tag Day scheduled for Saturday.

10-03-1949
Kanteen Tag Day nets $65.

10-06-1949
Kanteen to sponsor dances.

10-27-1949
Board set rules for the Kid Kanteen

11-17-1949
Kanteen board to establish a new office.

11-21-1949
Youth Kanteen Board elects new officers.

11-22-1949
Kanteen Events scheduled for the holidays.

05-01-1951
R.H. Roberts and Arthur Trout, co-chairmen of the Alexandria adult Kid Kanteen board announced that a critical shortage of chaperon help may necessitate closing of the Kid Kanteen on the lease expiration date which is in the near future. Approximately 200 young people attended the regular Saturday night party last week with no chaperons on hand early in the evening.

11-08-1951
Kid Kanteen youth board names committees to organize and plan activities for the winter. The meeting was held at the Kanteen with president Miss Janice Johnson, in charge. Arthur Trout, R. H. Roberts and Mrs. August Wehsollek, members of the adult board attended. The Kanteen rooms have been redecorated and cleaned and parents are urged to visit on party nights at any time. Members to serve on committees were: Susan Roberts, Sara Stahlhuth, Virginia Deakyne, Rex Jenkins, Bill Armstrong, and Dallas Thomas, Mary Jane Scott, Carol Golden, Shirley Leach, Lloyd Frix, Jim Wehsollek, Ronnie Beard, and Bill Kildow. Also were Caroline Hurst, Sue Wilson, Noreen Beeman, R. H. Dalton, Jim Tobey, Jack Matney, Nancy McCasliin, Betty Underwood, Patricia Alexander, Charles Donahue, and Don Miller.

11-15-1951
The Kid Kanteen board has made plans for a dance following a game November 24th.

04-03-1952
Kid Kanteen may close without aid.

08-22-1952
The Kid Kanteen needs a door supervisor.

09-05-1952
The Kid Kanteen will open after closing for the summer.

10-30-1952
Kid Kanteen plans a Halloween party.

09-09-1953
Kid Kanteen to raise funds for New Equipment.

10-21-1953
Arthur Trout, chairman of the adult board of the Kid Kanteen, said today that Kanteen members leaving Kanteen rooms after the 8:30 p.m. curfew will be required to sign their leaving time and will be expected to go directly to their homes. Kanteen rooms will be open as usual each Wednesday and Saturday nights but members must abide by the curfew law, he said. Plans are also underway for a Kanteen street dance Saturday night, October 31, on the south half block on South Canal Street at the side of the McNeese Store. Frank Bicknell, store manager, will provide music for the event and arrange lighting. Members of the Lions Club will serve as chaperons.

12-30-1954
The Kid Kanteen will hold a New Years Eve Party.

01-07-1955
Members of the adult and student boards of the Kid Kanteen were announced at the years first meeting of the organization last night. The Kanteen is now in its 10th year and announced that it has become largely self-sustaining with the exception of gifts from local industries and service groups. The adult board consists of Arthur Trout, president; Mrs. Pat Richardson, treasurer; Mrs. Burl Brattain, chairman of chaperones; Mrs. George McDermott, secretary. Others on the board are Mr. & Mrs. Sol Myers, Mr. & Mrs. Norman Schultz, Ed Spreen, George McDermott, Burl Brattain and Miss Gail Mull. The student board with Beverly Redding as president consists of Diana Brattain, Laveta Horton, Joyce Alexander, Charles Henry, Loren Garner, Bob McCurdy, Doris McCarty, Sue Cartwright, Anetta Pherson, and Betty Sue Pherson. During the month of December 1, 579 children registered at the Kanteen which is held Wednesday evenings from 7 to 10 and Saturdays from 7:30 to 11:00p.m. The board also made plans for two extra parties after basketball games These will be January 21st and January 28th and will include an orchestra.

09-20-1956
Adult officers elected for the Kid Kanteen Board. Re-elected to the presidency was Arthur Trout. Other officers named were Mrs. Arthur Trout, treasurer, and Mrs. Hugh Hines secretary.

10-04-1956
A total of 2,192 youngsters visited Alexandrias Kid Kanteen during the month of September.

10-12-1956
The Kid Kanteen to have a Halloween party October 27th.

02-21-1957
Kid Kanteen dress code established.

11-13-1959
Kanteen board holds meeting.

08-27-1964
The Kid Kanteen youth recreation center, will reopen September 2nd at 7p.m. Rules governing who can use the Kanteen facilities will be strictly enforced this year, Trout said. The Kanteen will be open only to high school students and those who graduated last spring.

05-19-1966
The Kid Kanteen, for 21 years the main recreational facility available to Alexandria youth of high school age may close if changes are not made. Bud Trout, chairman of the adult council of the Kanteen announced that pressure from the police and civic leaders regarding jay-walking, extreme noise, and rowdiness, speeding, and occasional drinking, has forced the adult council to correct the problem or close the doors. The second important issue discussed was that of Saturday night dances in the winter months. Trout pointed out to an audience of youth and civic leaders that these dances have brought to bear a great financial burden on the Kanteen. With a dance on Saturday, the youth center is unable to raise its necessary $160 per month to meet operating expenses.

05-23-1966
Kid Kanteen elect adult board officers. Article on 05-27-66

07-22-1966
Miss Linda Ashley, 16 year old Alexandria Monroe High School junior, last night was crowned queen of the Sidewalk Days promotion sponsored by the Alexandria Chamber of Commerce. Queen Linda was crowned by Miss Trudi Hoffman, Madison County Sesquicentennial Queen, during ceremonies held at 7:30 p.m. in the business district. She is the daughter of Mr. and Mrs. Robert Ashley of Orestes. She is a drum majorette and member of the Cheerleaders Club at AMHS. Princesses crowned were Kathy Hartwell, 16; and Diane Curts, 13.

01-30-1967
Members of the adult and student boards of the Kid Kanteen met tonight to tackle the problem of deciding the necessity of keeping the Kid Kanteen open in view of the poor attendance during the past four months. Average attendance has been running at between 60 and 70 out of approximately 750 students.

02-15-1967
65 students and parents responded to the 1,500 Kid Kanteen questionnaires that were handed out last week with disapproval of the Kanteen but agreed that everyone wanted something similar.

02-22-1967
Kid Kanteen adult and student board members voted to close the doors on the present location when the lease runs out in May. Uppermost on the survey of disapproval spelled out it was not patronized since live bands were no longer permitted due to the poorly constructed floors and a ground locating was needed. Present were Arthur Trout president; Dr. Dan Rohn and Wallace VanErman from Kiwanis, Steve Freeman representing Jaycees, and Mrs. Kenwood Collard and Mrs. Fred Marston, members at large. Students present were Ardy Absher, Tim Kelly, David Hahn, Dennis Gipe and Sam Lower.

03-22-1967
Members of the adult board of the Kid Kanteen and four student members convened at the City Building today to study the possibilities of working out an arrangement to establish Kanteen headquarters at the Armory.